Zen (Spectrum) released :: posted by Jason :: 19 Oct 2014
Einar Saukas has just released Zen, a puzzle game he has described as having "lots of extremely addictive levels" and offering "countless hours of entertainment" which apparently fits into even a 16K Spectrum.
• External link: Zen at WOS
Four new reviews added :: posted by Jason :: 09 Oct 2014
Yes, there's finally a new update and I must quickly apologise to the writers for taking so long getting them online but things have been hectic - Play Expo is this weekend, so as I write the last of the Oldschool Gaming machines are being loaded with new games ready to show off on our stand before they're thrown into storage boxes ready for tomorrow's journey.
So onto the reviews and what delights have we got this time? Paul has been playing Horace Miner and Horace Miner 2 for the Spectrum but not really enjoying the experience, but a conversion of Pooyan for the VIC 20 appealed much more to Frank and I had quite a lot of fun blowing aliens to smithereens with Robo Type on the Atari 8-bit.
Air Sea Battle (C64) released :: posted by Jason :: 05 Oct 2014
It might be somewhat primitive with 1982-style graphics and no sound, but Air Sea Battle is a simple shoot 'em up - or more accurately a shoot 'em down developed for the C64 in C.
The same author has also released UFO Attack (which was the basis for this game) and Looter, both of which are available from the same link below.
• External link: Air Sea Battle at Melon 64
Thro' The Wall (ZX81) released :: posted by Jason :: 04 Oct 2014
According to Speccy Live, Thro' The Wall is a Breakout clone for a ZX81 with 16K and it comes in a couple of flavours to support different graphics expansions such as WRX. The original game was apparently developed by Psion but we're not sure if it was based on the ZX81 or Spectrum version.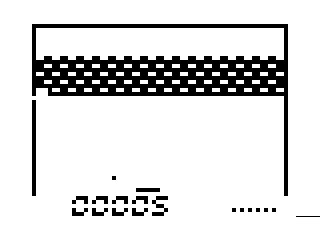 • External link: Thro' The Wall at Speccy Live
MultiDude (Spectrum) released :: posted by Jason :: 01 Oct 2014
MultiDude is a Spectrum puzzle game from Alter Ego developers RetroSouls where the player must guide brightly coloured characters to safety; often this involves trying not to block the exit route out for one dude whilst moving the other. It also has a rather lovely soundtrack for AY-equipped Spectrums.
• External link: MultiDude at WOS
If you've got a news item you'd like to see on the Oldschool Gaming news page, (either your own or something you've seen elsewhere) please get in touch via the forum - we're waiting to hear from you!