Things have been a little... erm, fraught of late here at Oldschool Gaming towers so, rather than flood the news with all those releases I haven't already documented, here's a single post covering loads of new games!
Mojon Twins Covertape #2 (Spectrum)
After being quiet for simply ages, those pesky Mojon Twins are back in force with a cassette image full of Spectrum releases. Side 1 contains Lala Lah, D'Veel'Ng, Julifrustris in the City, Bootee, the amusingly named Jet Paco and a playable demo of Sir Ababol 2 whilst side 2 harbours Balowwwn, Dogmole Tuppowski vs. the Mesmerizing Meemaid From Miskatonic, Monono, an update of Viaje al Centro de la Napia called Journey to the Centre of the Nose, Mega Meghan and Ramire the Vampire and the mushroom of Cheshire. No seriously, those are the actual names! Almost all of these twelve titles are fairly typical Mojon-style platform or maze action games, usually with some cleavage on the loading pictures.
Gommy Medieval Defender (MSX)
Next up is an MSX conversion of Gommy Medieval Defender from the Spectrum courtesy of Retroworks. After his compatriots all mysteriously disappear, Gommy is left to defend the castle alone by standing at the top of the battlements and lobbing things at the invading hordes making their way up the outer walls.
Shmup! (MSX)
It won't be any surprise to find out that the next MSX title Shmup! is a shoot 'em up... but it does have an interesting two ships under single player control mechanic, as well as a power-up that fuses the two ships together.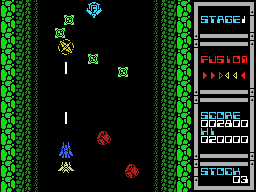 Vampe: GOTO Vampe (Spectrum)
Back to the Spectrum again and Vampe: GOTO Vampe is described by the developer Valdiras an arcade maze game with survival elements which is a sequel to his previous 2013 release Vampe. I've not had a chance to play it yet, but the responses in the World of Spectrum thread seem positive.
VIC 20 games by Kurt Johns
Finally, there's a collection of VIC 20 releases from developer Kurt Johns been made more readily available online; four of these games are new (as in released during 2013) but, since they come as a collection, we might as well mention the lot! There's thirty one games on the website, all available to purchase on cassette or download for free. The author has drawn particular attention to Boogieman, Exploria and Korque over at the Denial forums, which look like this: